How often should you clean your dentures?
Once your dentures have been fitted it is vital to ensure ongoing maintenance to prevent health issues. Some issues that can arise as a result of poor denture maintenance include inflammation of gums, bacterial infection and fungal build-up.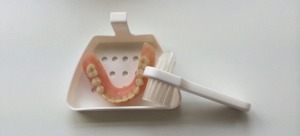 In order to ensure appropriate ongoing maintenance, it is best to clean dentures at least twice daily. In addition to this, you should clean your dentures after eating where necessary. When cleaning your dentures you should remove them to guarantee the best clean. Removing your dentures also allows you the opportunity to access your gums, which should be lightly brushed to promote blood circulation.
For more information on how to clean your dentures click here > >
To ensure your dentures are properly maintained you may want to have them professionally cleaned. One of our technicians can clean, hand scale and polish your dentures for you to ensure they are always at their best. Call us to organise an appointment today.
Our primary goal is your satisfaction. We will restore the self confidence that comes with a beautiful smile.